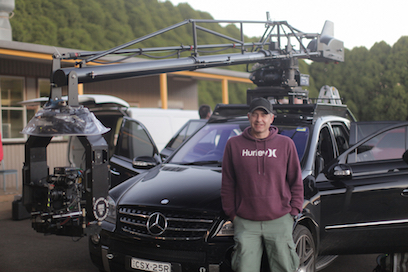 Joylon Watkins
An eye for automotive beauty, an innate understanding of action storytelling
and a gift for intuitive casting and natural talent direction are the hallmarks
of Jolyon Watkins director's showreel.
Growing up on his Father's car dealership with a love of movies and motorsport
it seems only natural that Jolyon would gravitate to automotive advertising for
his directing career.
Graduating from the pre-eminent Victorian College of the Arts Film and Television
School, Jolyon initially gravitated towards music videos, which earned him awards
and nominations both in Australia and overseas. His established formula in his
music videos was weighted towards character based storytelling, and that has
translated seamlessly into his dialogue driven commercials, in combination with
slick and stylish images.
In directing the worldwide hit music video ADDICTED TO BASS, an action homage
to the cult car film MAD MAX, Jolyon kickstarted his automotive advertising career.
What followed is with a long string of successful advertising campaigns for all
ofthe major manufacturers. Executions that interweave dynamic car photography
with intimate character studies and stories of their owners.
His commercials for Toyota, Holden, Mitsubishi, Suzuki, Mazda, Jeep and Honda
are a sublime hybrid of stunning car photography, exhilarating tracking and
aerial footage, combined with compelling performances and slick, seamless edits.
From the race track to the studio, Jolyon's slick and stylish photographic studies
for Hyundai, BMW, Nissan and Ford have shown that he has an innate eye for
automotive beauty on the turntable as well.