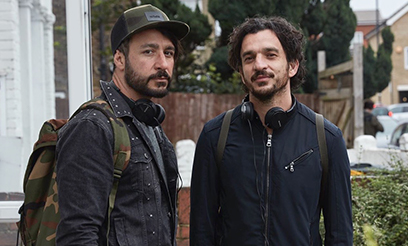 Michel + Nico
Insta:
@michelarribehaute
@arribehautenicolas
Michel + Nico are brothers from Biarritz who began their directing journey by teaching
themselves to film and edit short films, documentaries and then commercials.
Their energy and infectious enthusiasm has lead them to work for Mercedes Benz,
Renault, GAA, Red Bull and Orange among others.
If distilled into a sentence, Michel and Nico's motto would be: learn something everyday.
Their style reflects a desire that's raw, honest and emotive, with a passionate humanist
precision. Sport and excellence, the human condition, travel and discovery are the
subjects they love, as well as everything else that they have yet had to explore.
With a Cannes Young Director Awards shortlist and a nomination for Best New
Directors by Shots, Michel + Nico are definitely directors on the rise.
AWARDS
2022
Vimeo Staff Pick "Forever Young"
Young Director Award – GOLD "Forever Young"
London LIMFF – GOLD "Forever Young"
RIFF – GOLD, Best COVID Film "Forever Young"
Cine Paris – GOLD "Forever Young
2021
1.4 Awards – GOLD "Anything for Love"
Kinsale Sharks – Shortlist " William Hill Brotherhood"
2020
Cannes Young Director Award, Passion Project – SILVER "Anything for Love"
2019
Cannes Young Directors Awards – Shortlist "BBC – Prepare to be moved"
Creative Director Awards – GOLD "BBC – Prepare to be moved"
Creative Circle Awards – BRONZE "Lucozade – the next move"
2018
Cannes Young Directors Awards – Shortlist "Renault – The ultimate test drive"
AICP – Shortlist "Renault – The ultimate test drive"
2017
Cannes Young Directors Awards – Shortlist "The honest player"
Shots Awards – Shortlist, New Director of the Year.
LIA – Silver "The honest player"
Vimeo Staff Pick "The honest player"
Kinsale Sharks Awards – Bronze "The honest player"