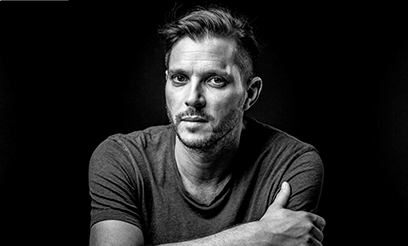 Patrick Fileti
Patrick Fileti is an award winning filmmaker and photographer
based in Sydney, Australia working worldwide.
Born in Florence, Italy, Fileti was influenced early on by the
sensibilities of European cinema culture. Growing up amongst
the history, architecture and characters of the city, with a
father who was a theatre director, drama and art were in
his blood. From early performances on stage, he then found
his way into photography, spending all his spare time in the
darkroom or behind the lens of his beloved Nikon FG-20.
After nearly a decade working in Television in London,
Fileti went on to study Directing and Cinematography
in Barcelona, where he honed his craft in film.
Fileti's ambition to create purposeful and emotionally charged
content is rooted in his belief that images speak to the soul
of the viewer. His work is shaped by a passion for beauty,
thought-provoking imagery and an intimate character. Fileti's
ability to work intuitively with actors and real people alike
to evoke heartfelt performances is key to the success
of his work.
His versatility as a director has seen him create award winning
commercials for brands such as Canon, Samsung, Vodafone
and Lexus. Notably his campaign for Coca Cola was awarded
three Gold, two Silver and four Bronze at the Cannes Advertising
Awards.
In 2011 Fileti co-founded the art collective Archrival, to create
unique installation works for exhibitions such as the Venice
International Biennale, Sydney Art Month, Art & About and
Sydney Fringe Festival.
Awards
"Inferno" – Best Documentary, Palm Springs International ShortFest
Myer "Naughty or Nice" – 4 Gold, 2 Silver AWARD Award, 4 Bronze Cannes Lion
Coca-Cola "Small World" – 3 Gold, 2 Silver, 4 Bronze Cannes Lions
Bundaberg "Road to Recovery" – 3 Bronze Cannes Lions
"Greenlight A Vet" –  Silver Effie, Nominated Adcolor Ad of the Year
Shell "Real Destination" – Gold ACS 
NRMA "Home" – Gold ACS 
Jetstar "Live for Today" – Gold ACS 
Energy Australia "Power to Move" – Gold ACS 
Canon "Photochains" – Grand Prix Cannes Lion, Silver Clio
Canon "Photo 5" – Bronze Clio, Bronze Cannes Lion
Canon "Seconds with" – Bronze One Show, Bronze Cannes Lion
Vacant Space – Gold ACS 
Shark Fin Blues – Gold ACS 
Short Film "May" – Gold ACS 
Short Film "May" – Best Film Young at Heart Film Festival
Short Film "May" – Gold Mayor's Award Heart of Gold Film Festival