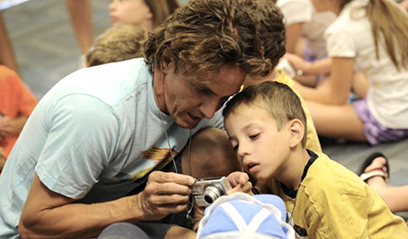 Michael Davie
"My passion is telling the under-reported story, chronicling the lives
of people on the frontlines of change" 
Michael is a multi Emmy Award Winning long form documentary filmmaker who
is available for special longer form projects through. Starting his career
with //13&CO Executive Producer at National Geographic Channel,
Michael has goneon to shoot and direct countless news, current affairs
and documentary films for National Geographic Television, Discovery Channel,
ABC and SBS (Australia), The Seven Network (Australia) HDNet, NBC,
Channel Four (UK), PBS, CNN and OWN (Oprah Winfrey Network) in
a career that has over spanned 20 years.
Michael is passionate about the craft of story-telling and has an innate
ability to find the truth of any project – loving projects that tell the human
story. He has also embraced the value of brand funded long form
storytelling project.
Most recently, Michael co-created and directed the landmark 7 x one-hour
series, Belief, hosted by Oprah Winfrey. Filmed in 28 countries over three
years, Belief aired in October 2015 to a US audience of over 15 million
viewers and is currently being distributed in 230 countries and territories.
Michael recently relocated his family from Washington DC back to to his
birth country of Australia.